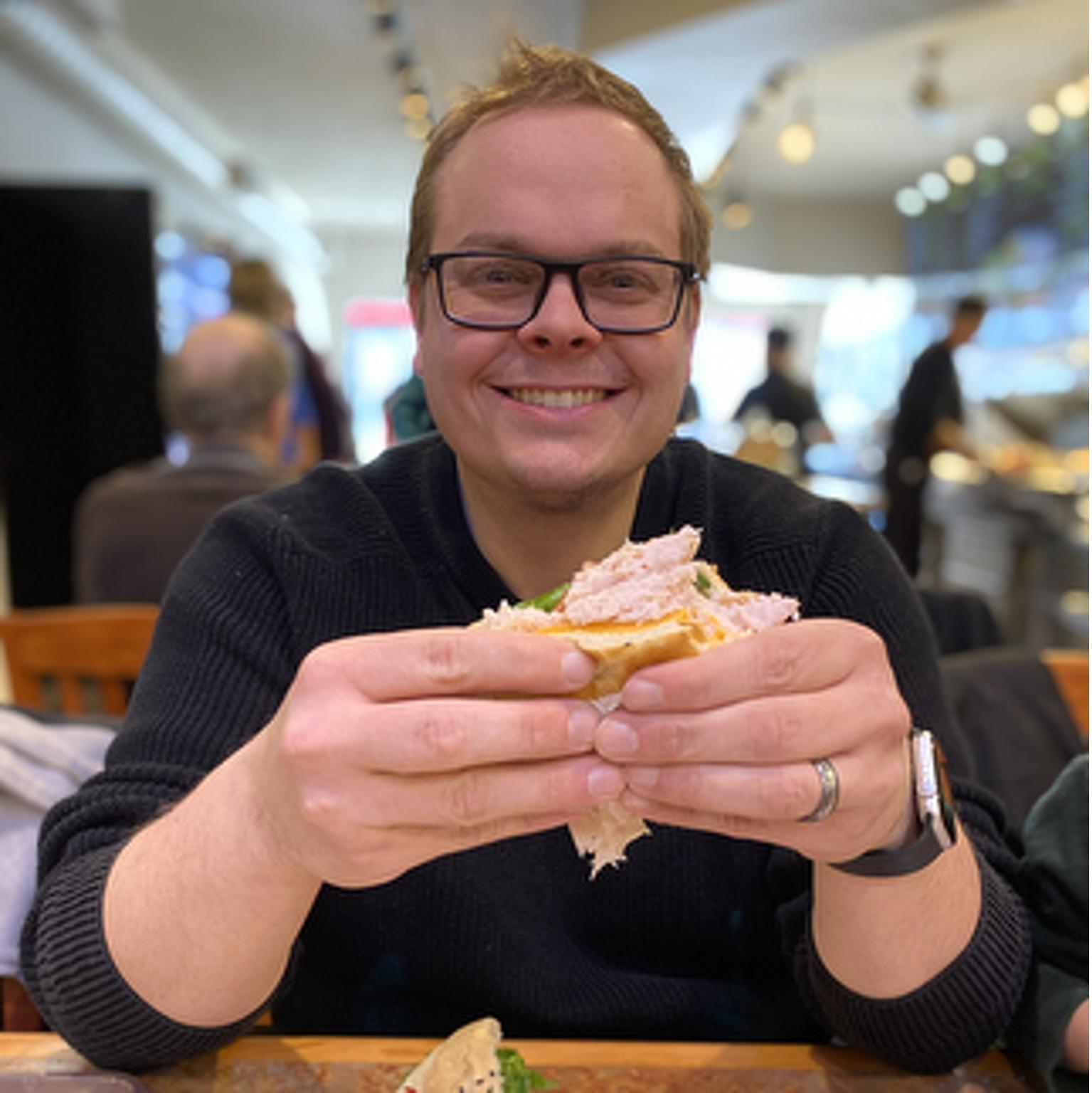 Restaurants around Southern Georgian Bay
There's always something delicious just around the corner
This area specializes in home cooked meals, pub fare and mom & pop restaurants. Here are just some great spots to try.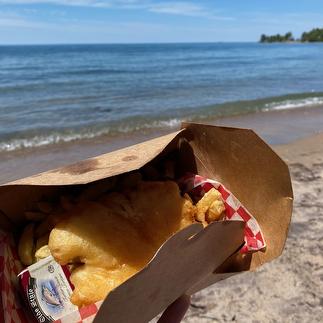 BEST FISH & CHIPS IN NORTH SIMCOE!
Get some fresh fish and head to the beach!
🐟 🌊One thing we can all agree on is that our beautiful community offers some awesome fish & chips! Perfect for a beautiful sunny beach day. Many restaurants cook up some delicious fish.
😋 Here's a list of places you can get some amazing local fish & chips! 
🍟 The Boathouse Eatery, 177 King Street, (705) 527-7480, (patio is open☀️)
🐟The Queen's Quay British Pub & Restaurant, (705) 534-1211, 67 Juneau Road, Victoria Harbour (patio is open☀️)
🍟 Flynn's Irish Pub, 96 Main Street, Penetang (patio open☀️)
🐟 World Famous Dock Lunch, 4 Main Street, Penetang waterfront, (705) 549-8111
🍟 Captain Ken's Diner & Pub 70 Main St, Penetang, (705) 549-8691
🐟 Perky's Fish and Fries Too in Perkinsfield
🍟 Phil's Casual Dining 48 Main St. Penetang, (705) 549-7858
🐟 Phil's Pub & Eatery in Midland (1$ off Fridays) (705) 526-3003, 519 Hugel Avenue
🍟 5 STAR Takeaway, in Lafontaine (705) 331-7240
🐟 Cellarman's Ale House, 337 King Street, (705) 526-8223
🍟 Mom's Restaurant Midland, 200 Pillsbury Drive, Midland,
(705) 527-0700 (patio open☀️)
🐟B&R'S Takeout and Brenda's Confectionary, 106 Robert St. West, Penetang, (705) 549-7226
🍟FISH N FRY INN, 803 VINDIN STREET, Midland (705) 209-7787
Now more than ever, eating and shopping local is so important. Restaurants are adapting with safe food handling and preparation as well as patios! ☀️
👉 Some fun Fish & Chips history: Fish and chips first appeared in the UK in the 1860s, and by 1910, there were over 25,000 fish and chip shops across the UK. By the 1930s there were over 35,000 shops, but the trend reversed and by 2009 there were only approximately 10,000. The British Government safeguarded the supply of fish and chips during the First World War and the Second World War and it was one of the few foods in the UK not subject to rationing during the wars. (source: Wikipedia)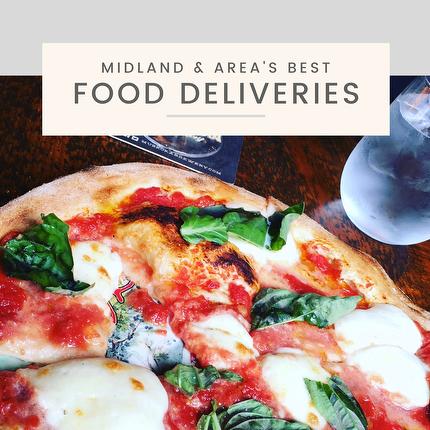 BEST FOOD DELIVERIES in Midland & Area!
Here's a list of some of the best restaurants still open to offer you delicious food!
BEST FOOD DELIVERIES in Midland & Area! 🍕Want a break from cooking and craving some restaurant food? Here's a list of some of the best restaurants still open to offer you delicious food!
Not sure about you, but I'm craving a good pizza from Dillon's Wood Fired Pizza! It's just what I need after a long day of working from home. And the best news of the day...they've partnered with Lilly's Italian Eatery, History Barbershop Co., Taylor & Co. Clothiers and Tripp's Paint Shoppe to offer a gift certificate when your order is over 100$! It's also 15% off if you choose to pick up.
Here's a list of my favorite restaurants that are offering delivery services during this time! Many even offer delivery for FREE! I've even included those places that do take out too (information subject to change so when in doubt, call!😉 📞)
- Dillon's Wood Fired Pizza Great pizza in Midland (244 King street)! Delivery in Midland only. Take out 
705-245-1006
- Lilly's Italian Eatery in Midland (223 King Street) has great Italian meals!! 🍝🍷For their menu, check out their page or call to order your take out 705-245-1006
-The Arch Steakhouse in Midland is open for take out. Simply call 705-526-7313 to order.
- The Surf Bar & Grill (369 Balm Beach Rd) Delivery and take out. 705-361-1612
- Flynn's Irish Pub in Penetang is offering a new take out menu every Thursday to Saturday. Orders and pickup between 4PM - 7PM. We would also appreciate if customers would pre-order and indicate their pick-up time. Call 705-355-4782 or EMAIL: flynnsirishpubinc@gmail.com to place your order! 
- Queens Quay British Pub & Restaurant in Victoria Harbour offering takeout options Thursday to Saturday 705-534-1211 or email thequeensquay@gmail.com
- Pan Mai Restaurant, 175 Main Street in Penetanguishene is offering take out or delivery 705-549-0526
- Midland Fish and Chips, 311 King street in Midland offers take out and delivery 705-526-9992
- The Winghouse in Midland, 356 Eighth Street in Midland 705-245-9111
- The Winghouse in Penetanguishene, 32 Main Street, 705-355-59222
- Grounded Coffee Company Inc. is offering an expanded menu with great baked goods and freshly grounded coffee! The cookie decorating box is an excellent choice for kids to try and decorate their own cookies! Order via their website. Cut off is Friday at 4pm. Delivery or take out available. 
- Georgian bakery & Mad Cravings: They've got donuts and sourdough! They also offer great take home Easter brunch options! Place your order by April 9th - sarah@madcravings.ca. Pick up will be April 11 between 4-6.🐣🥚 They have all your bakery goods you've been craving! Pick up or free delivery 705-526-6509
- Georgian Shores Catering in Midland: They'll be offering an Easter dinner, all ready to go! Call to place your order for take out 705-527 0129. They also can deliver when they close at 5pm in the Midland/Penetang area.
- FEAST Catering And Events: Great comfort food! For their weekly menu check their page, order by Wednesday for pick up or delivery by Friday. Email info@feastco.com. They even have partnered with PIE Wood Fired Pizza Joint to offer pizzas!
- The Boathouse Eatery: Boxes of BBQ food (burgers, buns, sausages, chicken $60 per box). Easy ordering by text 705-571-2561 for pick up order on Friday 2-6pm
- Phil's Pub & Eatery in Penetang & Midland - All day breakfast menu and comfort food (wings are great!) Offering delivery and takeout! Opens at 11am-8pm Mon-Sat (Closed Sundays) 705-549-7858
- Bleu Garden Restaurant For classic Chinese take out! 740 Yonge Street, Midland 705-527-7302
- Boston Pizza Has some great pizzas to take out or for delivery! Simply call 705-526-9966. Open everyday from 4-8pm.
- Papa's Pizza Mama's Chicken Buy 1 or 2 It's Up 301 King Street, Midland. Order and pay online! www.papaspizza.ca, 705-527-5577
👏 Thank you so much for supporting local! Every purchase to a local business helps #shopsmallsos
And thank you to all the restaurants and food services still open and providing safe food choices for all of us! You're keeping our mouths smiling and bellies full! 😋
Hope this info is useful for all of you! I may have forgotten a restaurant, but this is a good start. 
Stay safe, stay healthy, #stayhome
Cheers,
William Myles, Georgian Bay Live
Sales Representative, Royal Lepage In Touch Realty
705-209-2520
William.myles@royallepage.ca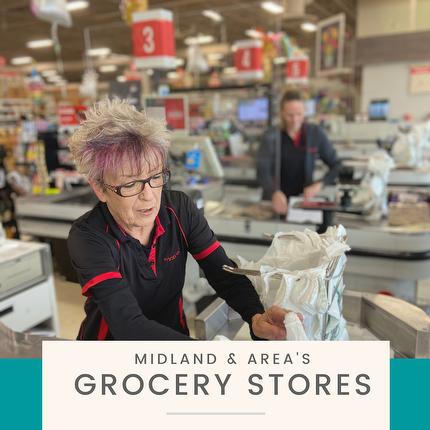 OUR COMMUNITY HEROES: Grocery stores!
A list of grocery stores in the Midland area
OUR COMMUNITY HEROES: Grocery stores! 🍎Our local grocery stores are our lifeline, provide us with our staples - so thank you for what you do! ❤️👏
With all the recent changes, it can be hard to keep up with all the grocery store open and close times. So to help, I'm sharing a list of all our grocery stores in the area, and including their times of business and phone numbers for delivery/pick services (subject to change, when in doubt please call):
🥚 Foodland, 795 Balm Beach Road, Midland 705-527-4067; Open everyday 8am-8pm, 7am-8am (Seniors shopping hour), foodlandmidland@gmail.com for deliveries
🥕 Foodland, 2 Poyntz St #110, Penetanguishene, 705-549-3127 Open everyday 8am-8pm, (7-8am Seniors Shopping Hour). Deliveries offered by the Penetang Legion, call in 705-549-3127 between 9-12pm to schedule a delivery.
🍇 Foodland 705-534-7831 Open everyday 8am-8pm, (7-8am Seniors Shopping Hour) For pick up orders, email order by 12pm on Tuesdays and Thursdays fld3283victoriaharbour@sobeys.com
🥝 Real Canadian Superstore 705-527-0388, offers online orders and pickup : https://www.realcanadiansuperstore.ca Open 8am-8pm (7-8am Seniors Shopping Hour) Be advised that their online ordering service is very popular so plan ahead (wait times are one week or more).
🥦 Valu-Mart, 277 King Street, Midland, 705-526-3622, Open 8am-7pm (7-8am Seniors Shopping Hour) They offer deliveries same day or next day, simply email valumartdelivery@yahoo.ca with your order.
🥑 Food Basics Midland, In Mountainview Plaza, Open 8am-7pm (7-8am Seniors Shopping Hour). 705-526-7671. No delivery services offered.
- No Frills Midland: 990 Jones Rd in Midland. No delivery but they can help you carry out, if needed. 1-866-987-6453
🥔 Nicholyn Farms: 3088 Horseshoe Valley Rd W, Barrie 705-737-4498 Open 9am-6pm everyday except Sunday, 10am-5pm
🧀 Hewitts Farm-Market: 3331 Townline, Severn (705) 325-3000, Open 11am-6pm
🍞 BelleRoots Farm: Check out their Facebook page for fresh farm fresh products delivered to your door! 705-209-2492
Shopping Tips:
👉 Be prepared and have a list at hand and only take what you need (avoid panic buying).
👉 Encourage ONE healthy family representative to do the household shopping
👉 Practice social distancing at all times between shoppers (at least 2m)
👉 PRACTICE SAFE FOOD HANDLING: When you do bring your groceries in the house, follow the safe handling advice of Dr. Jeffery Van Wingen in his informative YouTube video: 
https://youtu.be/sjDuwc9KBps
To each grocery store team member, THANK YOU for your service on behalf of our community! You are keeping us all safe by keeping our grocery stores stocked and clean. 
Here are the amazing cashiers from Foodland. They have innovated their shopping experience with new cashier windows from Templeton Windows to provide a safer environment for staff and shoppers. They also offer delivery and pick up (delivered to your car).
Stay safe, #stayhome
Cheers,
William Myles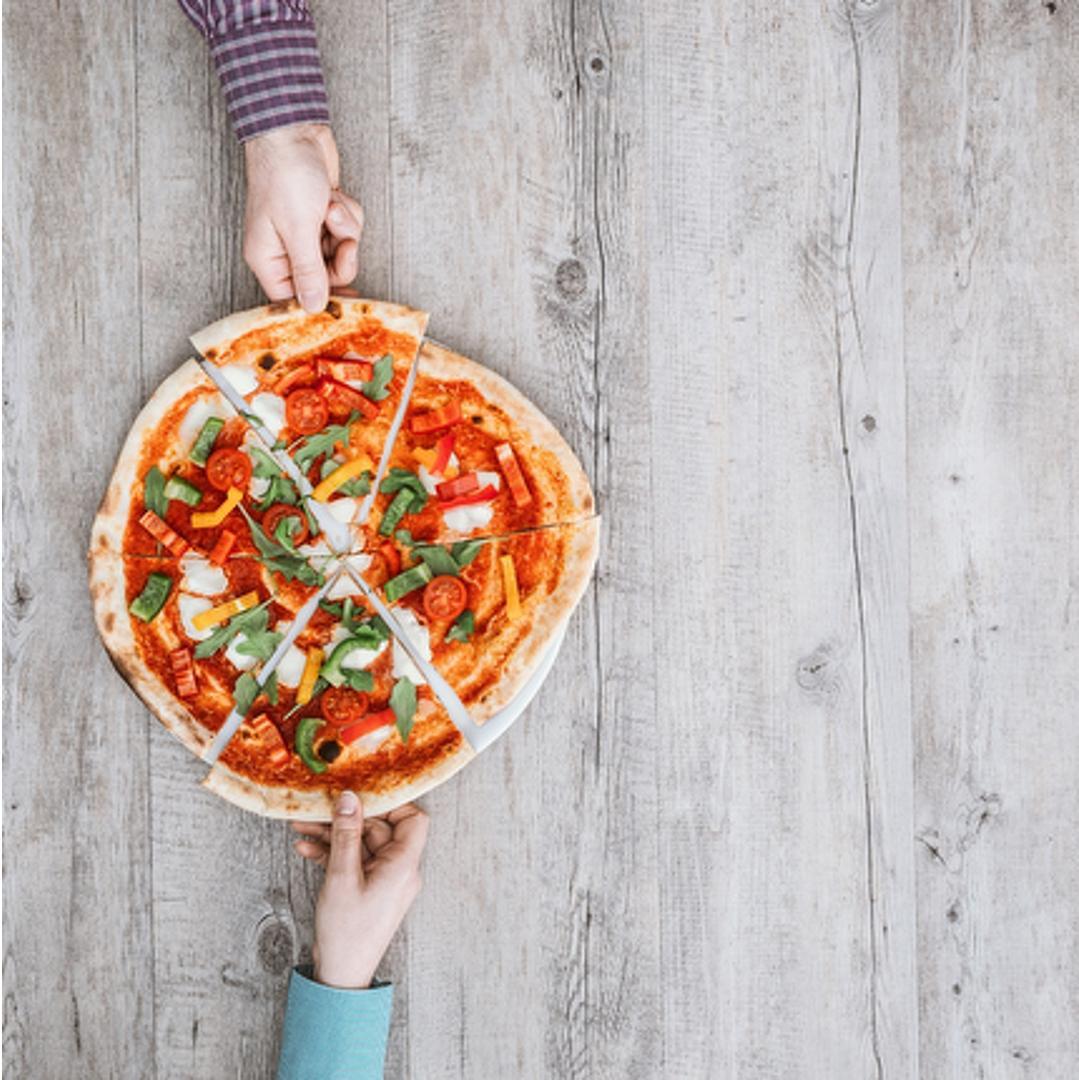 BEST PIZZA JOINTS IN MIDLAND!
If you're a fan of the pizza pie, here's where to go!

Wondering where to get your pizza fix in Midland, Ontario?
Well, it depends on what you like most, thin crust, fast delivery, convenience, service, style, cost, etc. 

Here are a few of my top picks to try out in Midland:
Hope you enjoy your pizza!!!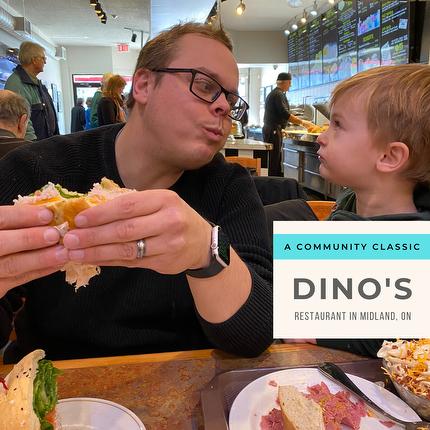 A COMMUNITY CLASSIC: Dino's Fresh Food Deli
King Street, Downtown Midland
When I first arrived in this area, one of the first restaurant recommendations we got was to this amazing deli: Dino's Fresh Food Deli! You instantly feel part of the "in" crowd when you go. Always full of happy faces and full bellies, the lunches are crowd pleasers. They even cater to any office party or get together. Plus, it's been recently renovated and adorns Georgian Bay art and historical photos of the area on its walls. Be warned, enter hungry! You'll need an appetite!
Insider's tip: Get a half pasta salad/ half garden salad side with all the fixings and you'll thank me later! oh... the butter tarts are pretty awesome too!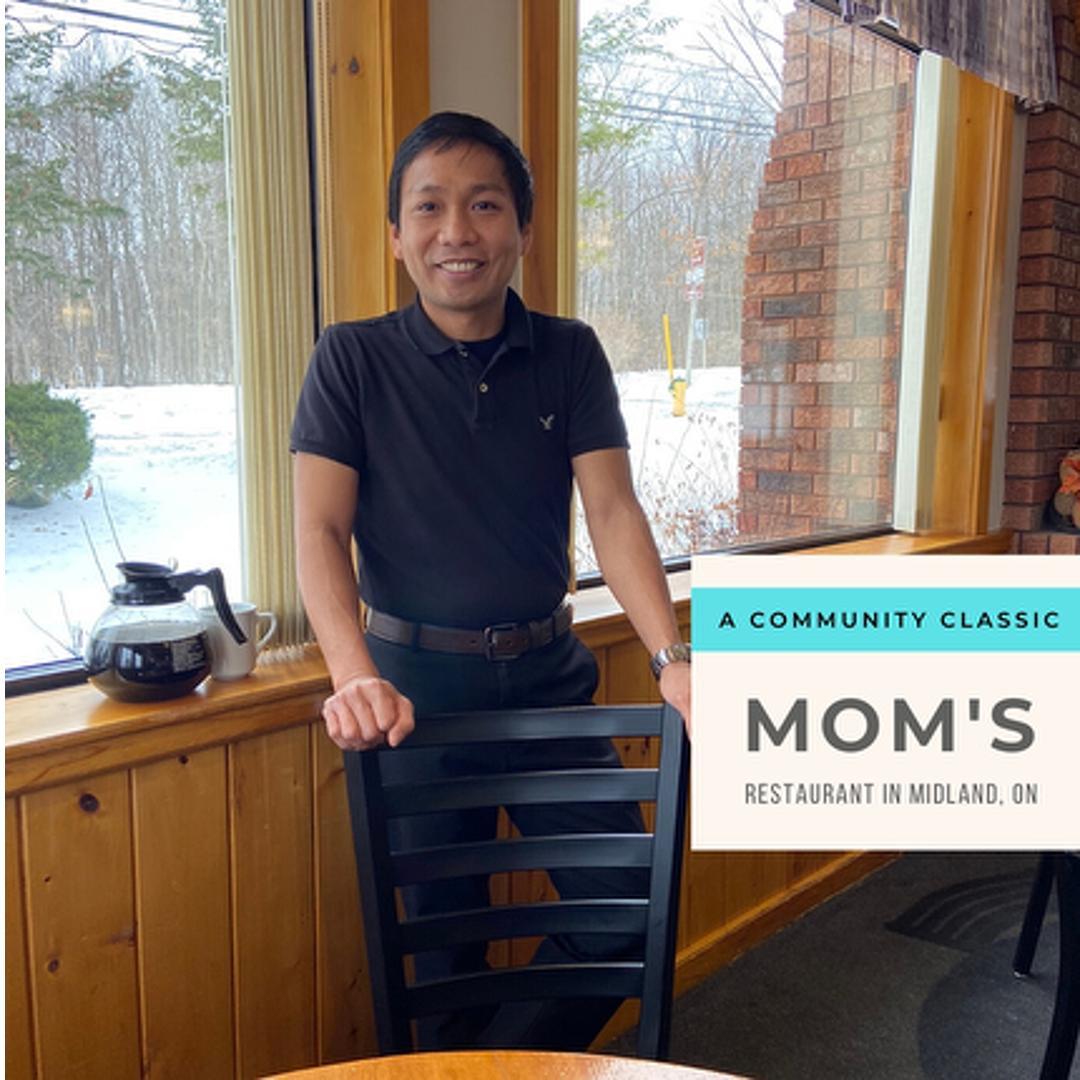 Mom's Restaurant in Midland
A Community Classic
Meet Jeff Pauig Turqueza, a server at Mom's and the awesome cook staff that work so hard behind the scenes. Jeff was an incredible server with an incredible story. He was welcomed in this community about two years ago because his wife found a job in the area. He's happy to now call this community home. 
You can always count on some good food, great coffee and the perfect way to start your day. Comfort food at its finest, the restaurant bursts with locals, seasonal residents, long-time couples, first dates and families. 
Cheers to many years to come as a classic community local spot!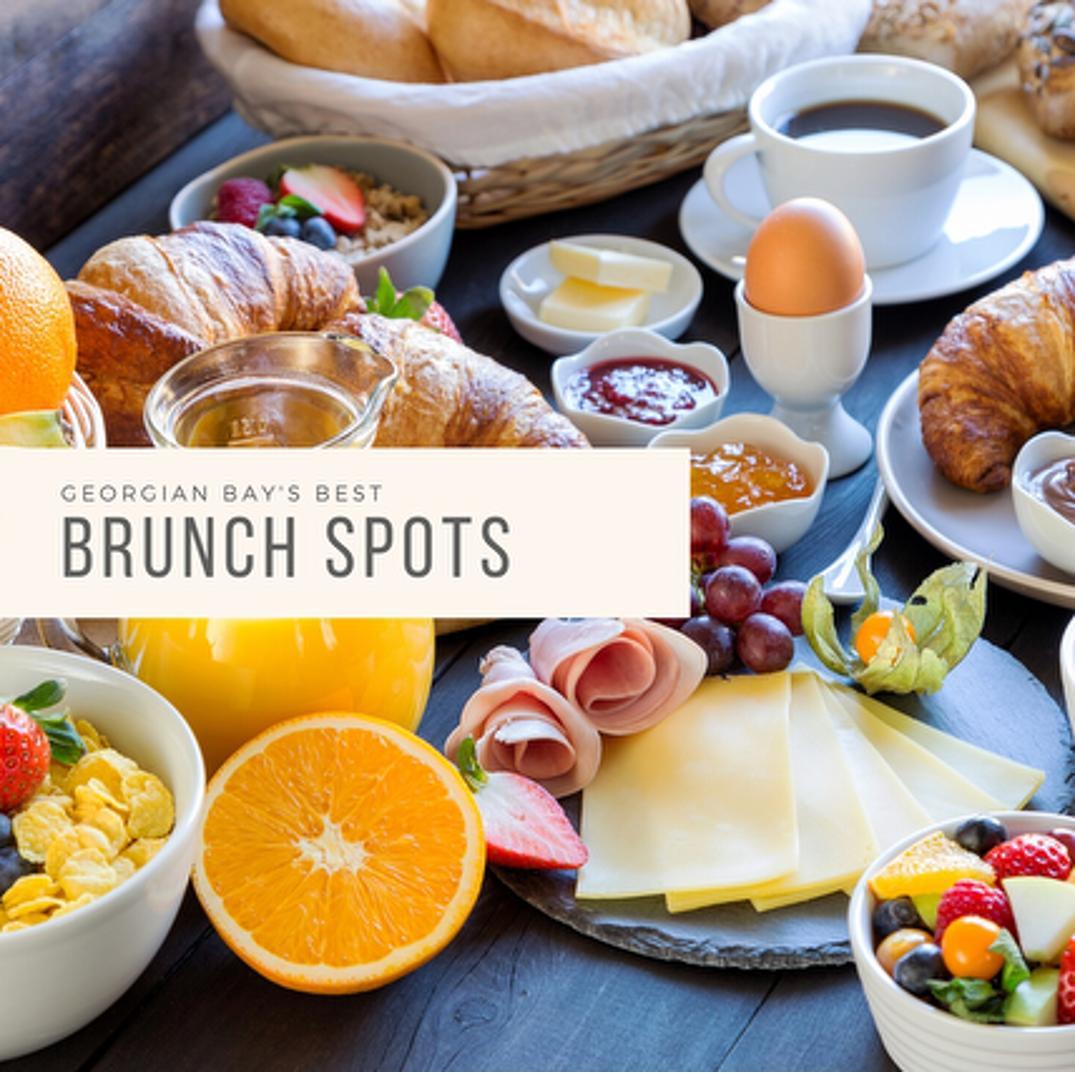 GEORGIAN BAY'S BEST BRUNCH SPOTS!
Casual fare with friends and family on Sundays
🍳

🥞

Brunch is always a good idea, especially on Sundays.
It's no secret, our family loves to get out for brunch and our local restaurants always find ways to entice us to come back. Here are some of our favourite places to go on Sunday mornings:
Brunch The Queen's Quay British Pub & Restaurant in Victoria Harbour
Brunch Mad Cravings in Wyebridge is a must. The cornbread is delicious! (Seasonal - Opens in May)
Sundays available for afternoon tea RoyalTea on King (reservations required)